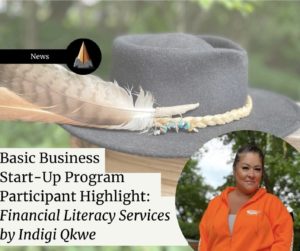 Prior to joining the 2021 Basic Business Start-Up Program with Arrowhead Incubator, Inc. as a student, Nicole Raphael wore a different hat as an instructor.  Nicole was a lead facilitator for the 2020 cohort of the Financial Business Basics (FBB) program under the leadership of Henry Foreman with New Mexico Community Capital (NMCC) for tribal communities in Michigan.  During the FBB, her eyes were opened to the potential for business and financial education to be infused with the Native culture.
"We indigenized the content so that the Native community could understand.  We were speaking their language," shared Nicole. "As a struggling single mother at 17 and doing it myself, I only know how to teach what I've already learned. Financial independence is priceless."
Inspired by the decolonized content within the FBB courses, Nicole began looking for ways to bring the work of NMCC to Native communities in Michigan.  Nicole is an enrolled citizen of the Grand Traverse Band of Ottawa and Chippewa Indians.
Financial Literacy Services by Indigi Qkwe seeks to provide financial literacy services, homeownership opportunities through the Section 184 Indian Home Loan Guarantee Program, and supports the growth of an entrepreneurial ecosystem with Native youth.
"My vision is not competitive with NMCC, but rather I see myself a lateral ally in conjunction with their work to get this out there," Nicole said. "We are already naturally entrepreneurs.  We've had traders, quillwork, and black ash basketry.  We made our own stuff that was for us and by us.  We already know how to do all this."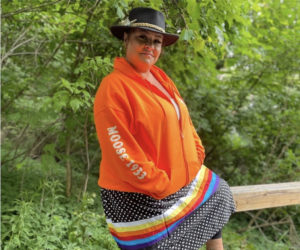 Image: Nicole Raphael, Ojimaakwe of Financial Literacy Services by Indigi Qkwe, outside of 20Fathoms in Traverse City, MI  
The value of seed banks as sacred currency and the movement for food sovereignty across Turtle Island are embedded within Indigi Qkwe's approach to financial literacy.  Planting the seeds for future generations to flourish and reinvest in health and wealth within Indian country is key to Nicole's approach.
"We need to be prepared for the left, the right, and thinking forward," Nicole said. "Sometimes we need to learn how to play the game of the colonized economy just so we can get in the door.  We're not changing minds if we're not sitting at tables and having those conversations."
Nicole intends to launch her first pilot program with the Grand Traverse Band of Ottawa and Chippewa Indians.  It is her hope to subsequently reach all 12 federally recognized tribes within the State of Michigan.
"I've already done all the work outside," said Nicole. "Now that I have that foundation, I want to launch it here in my hometown."
Supporting the financial strength of her community is at the heart of Nicole's mission.  As a veteran, Nicole hopes that the opportunities for travel, connection, and service are accessible for the next seven generations through increasing financial freedoms.
"I feel like I've lived five chapters already.  I have a couple different degrees.  I am a combat veteran.  I've been overseas to Iraq and Germany," shared Nicole.  "I'm a mother, I'm a sister, I'm an aunt.  I have so many stories.  I want other people who have not left this community to have the opportunity to do the same thing."
NOTICE: The production of this promotional piece was supported by Grant #90NN0004-01-01 from The US Department of Health and Human Services Administration for Children and Families (ACF).  Its content are solely the responsibility of Arrowhead Incubator, Inc. and do not necessarily represent the official views of ACF.