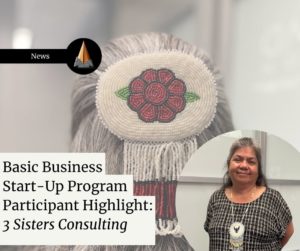 When Eva Menefee was 10 or 11 years old, she tagged along with her Aunt to a quilting circle at The Oneida Nation of the Thames' senior center in Ontario, Canada.
"I went with my Aunt Kay and I said, 'Where are we going to go?' and she said, 'We're going to go sew,' and I said 'Oh, yuck'," chuckled Eva, "My Mom is a beautiful seamstress, but I can barely sew straight. But, not only did I learn a lot about the community in those four hours, I learned how much those elder women played a role in our community keeping things alive and taking care of families."
In 2021, Eva created her business to support the tradition of bringing empowered women together with 3 Sisters Consulting, LLC.  Eva is an enrolled member of the Oneida Nation of the Thames.  During COVID-19, Eva witnessed a rise in the stress levels of women within Native communities struggling to balance work, family, and communal obligations.
"COVID-19 hit us hard and we didn't know what to do and, in some ways, it trapped us," Eva shared, "It trapped us in our houses.  It trapped us with our kids.  It trapped us into being an individual person trying to take care of everybody because, as Native women, we tend to take care of everybody anyway.  We had no breathing room.  We just got consumed by everything around us."
3 Sisters Consulting was created as a catalyst for women to intentionally create space to refocus, reset, and recenter.  Rooted in the Native American cultural traditions of Quilting bees, Auntie gatherings, and Women's circles Eva is seeking to offer Women's Retreats, Friend's Get-Away Packages, and Bridal Showers packages to make it easier for women to simply enjoy time together with an agenda and a schedule that fits their needs.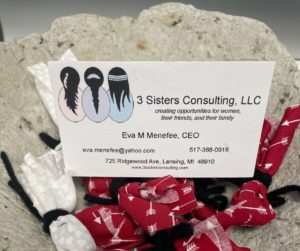 Image: 3 Sisters Consulting business card with CEO Eva Menefee's contact information, resting in a bowl of hand-prepared asemaa
"I wanted to find something that would be a need in the community," Eva said, "I want to help women get together and recenter – to connect with themselves, to laugh, to find our souls.  When you're with your friends, you get strength from that.  I don't care if your 12 or 20 or 40 or 60, women need to have women friends around them because you pull strength from each other."
In October 2021, 3 Sisters Consulting will be hosting its first Women's Retreat for four days in Frankfort, Michigan.  Self-care may not be a new concept, but intentionally setting aside time to disconnect in 2021 is paramount.  As businesses, schools, and households continue to navigate an ever-changing 'new normal', Forbes reported in April 2021 that self-reported burn-out rates have increased to a startling 52% of respondents within the United States.
"I've worked over 60 hours extra this year during COVID.  I was able to prioritize, in my day, extra time to go to work," Eva stated, "If we don't want to crash and burn ourselves, we need to learn how to take care of ourselves better.  Sometimes we just have to stop."
Eva shared the traditional story of the three sisters from the Iroquois culture, as she was taught growing up, of corn, beans, and squash.  Traditionally, the corn stands tall in the middle, the beans use the corn to help them grow, and the squash shelters the bottom of the two plants to provide shade so all three can grow healthy and strong.
"One person can only be a sister if she has others around her," shared Eva, "Two sisters are good, but three sisters are a strong combination.  It is important for us as women to empower one another to make sure you understand what your role will be when you become a grandmother or a great auntie."
As for entrepreneurship in Indian Country, Eva shared she is looking forward to other indigeprenuers coming forward with outside the box thinking in 2021.
"We need to start thinking about things to do – not just to help ourselves, but to help our community," Eva said. "I think that if you have an idea – as long as it something that you can do and that in some small way will help your community – you really need to try to make it work. Be brave."
Stay up to date with 3 Sisters Consulting or check out their range of services at https://3sistersconsulting.com/services.
NOTICE: The production of this promotional piece was supported by Grant #90NN0004-01-01 from The US Department of Health and Human Services Administration for Children and Families (ACF).  Its content are solely the responsibility of Arrowhead Incubator, Inc. and do not necessarily represent the official views of ACF.