Arrowhead Incubator, Inc. Introduces the Northern Lakes Rendezvous Partnership with the Northern Lakes Economic Alliance
Arrowhead Incubator, Inc. (AHIN) and the Northern Lakes Economic Alliance (NLEA) introduce a new program that provides indigenous entrepreneurs with the space to grow their business ideas and access capital.
The Northern Lakes Rendezvous is an event for indigepreneurs working across various industries to pitch their products, services, and business plans without the stage and the lights.  The event will bolster Native business owners' professional connections, provide access to early-stage funding, and foster relationships between other innovative inventors and investors.  The Rendezvous Alliance event is designed to celebrate indigenous resilience, innovation, and problem solving throughout Northern Michigan.
AHIN and the NLEA are looking for those involved with the following industries to apply: Value-Added Agriculture; Outdoor Recreation; Tech; Recycle/Upcycle; Research & Development; Manufacturing Industries; and Others.  Native-owned businesses or individuals looking for support or networking opportunities to bring their ideas to life and who live or work in the NLEA service region of Antrim, Charlevoix, Cheboygan, and both organizations are encouraging applications from Emmet county.  Interested entities are invited to complete an event interest form by Wednesday, September 1st 2021 online at rb.gy/lugp7i.  Interested applicants will be invited to schedule and complete a pre-registration meeting with AHIN.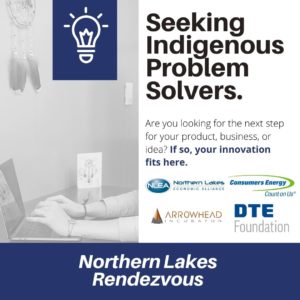 AHIN and NLEA will host an invitation-only event on Wednesday, September 8th from 3-6PM at the NLEA Offices within CHAR-EM ISD in Boyne City, Michigan at 1313 Boyne Avenue in Boyne City, MI 49712.
Financial support for Northern Lakes Rendezvous Alliance is provided by the DTE Foundation and Consumers Energy.
NLEA, established in 1984, is a public/private non-profit organization serving Antrim, Charlevoix, and Cheboygan Counties in Northern Michigan.  NLEA works directly with local units of government on infrastructure projects, facilitates local company growth and expansion, and assists many local companies on a wide range of issues that help retain existing jobs and create new jobs.  For more information visit northernlakes.net.
Arrowhead Incubator, Inc. (AHIN) is a Native American 501(c)3.  AHIN works to incubate start-up companies by providing culturally informed curriculum, professional development opportunities, and access to a wrap-around support network.  The organization's mission is the social and economic empowerment of Native communities and seeks to serve tribal communities both locally and nationally.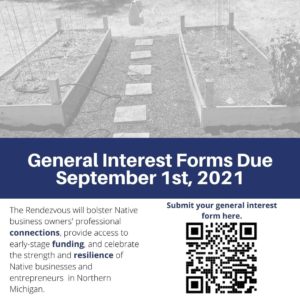 NOTICE: The production of this news release was supported by Grant #90NN0004-01-01 from The US Department of Health and Human Services Administration for Children and Families (ACF).  Its content are solely the responsibility of Arrowhead Incubator, Inc. and do not necessarily represent the official views of ACF.