No two dream catchers are ever exactly alike.  Pamela Harris-Kenwabikise would know, as she has spent the past twenty years perfecting her craft with hanging dream catchers, ornaments, and cards.
"I was a stay-at-home Mom for six years and that's what I found myself doing," Pamela said, "It expresses my heritage, my creativity, and the possibilities."
Pam is an enrolled member of the Grand Traverse Band of Ottawa and Chippewa Indians.  Her late grandfather, Paul Kenwabikise was the hereditary Chief on Beaver Island, and his wife, Isabel Wabanimkee Kenwabikise was born on Garden Island (Minis Gitigaan) – just north of Beaver Island.
"Word of mouth is how I sold most of my cards in the beginning," shared Pam, "The few people I'd given cards to, the next time I went to their home they had my work framed."
In 2020, Pam shifted from pursuing her card making as a hobby to forming Chippewa Creations.  On the back of each product is the dream catcher's traditional meaning, as told and passed down by her family.  Every card and bookmark tells the story of Pam's proud connection to Beaver Island.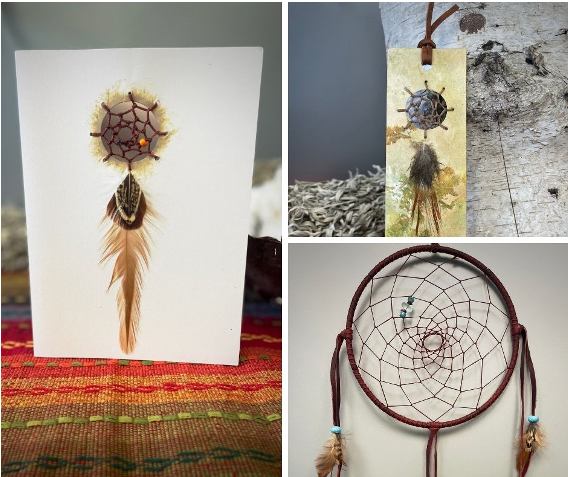 There is peace and tranquility in creating her pieces, Pam shared. "It frees my mind and I look forward to getting home to weave a couple of cards just to relax."
Over the years, Pam has carefully expanded her product line from hanging dream catchers designed just for friends and family. She now produces a wide range of shapes, sizes, and colors for her hanging pieces, cards, and bookmarks.
"There's been a big difference in quality from my first card to now: colors, sinews, beads, feathers, sizes – everything has improved," commented Pam, "I can customize them for a wedding or a birthday. The card speaks for itself without a pre-printed saying in it."
Chippewa Creations cards are stocked annually at Deb's Creations at 26189 Back Hwy, Beaver Island, MI 49782. Pam is looking to expand into stores throughout Northern Michigan this summer.
"Now that it's out there and more people are seeing it for the first time, that's what keeps me going," Pam said, "I think there are lots of ideas for small businesses out there in Indian Country, but I sat on this for twenty years. You need that extra shove to move your idea onto the next step."
Keep up to date with Chippewa Creations' next steps online at https://chippewacreationsllc.godaddysites.com.
NOTICE: The production of this promotional piece was supported by Grant #90NN0004-01-01 from The US Department of Health and Human Services Administration for Children and Families (ACF). Its content are solely the responsibility of Arrowhead Incubator, Inc. and do not necessarily represent the official views of ACF.